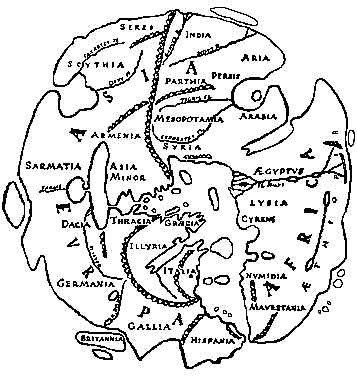 The Greek geographers of the 5th and 6th Centuries B.C. represented the earth as a disk floating in an ocean. And although the spherical shape of the earth was well-supported by the time of Aristotle, the Romans continued to use the early Greek representation. They called their map simply Orbis Terrarum ("The Whole World").

Roman map-makers often placed East at the top of their maps, perhaps because it is the direction from which the sun rises. In the Middle Ages places to the east were called "the Levant" from the Latin levare meaning "to rise". However, the Romans used the verb oriri for "rising" when applied to the sun, moon and stars, a word from which came oriens meaning "the east", "the morning" or "the rising sun", and the English word "Orient".
"The Orbis Terrarum of the Romans" drawn by Erwin Raisz, in Encyclopedia Americana 1954, vol. 18, page 258.