Interactive Map of Parthia

This chart requires Adobe Flash™. Click the button to get Flash for free.
The image is interactive; to get a pop-up menu on a Macintosh, hold down the Control-shift keys (Control key only on System 8 and below) and click. For Windows, click with the right mouse button anywhere on the image. Choose Zoom In or Zoom Out option from the pop-up menu to see different levels of magnification. Click and drag magnified image within the window using the hand cursor. Choose Show All from the pop-up menu to return the image to the original view.
If you see this text, you do not have JavaScript turned on or you do not have the most up to date flash player.
In a Chrome browser, click on the Get Flash button above.
This image requires Adobe Flash and JavaScript. See the Tech Info page if you have any problems.
---
JPEG Image of Middle East Map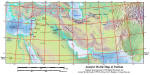 If you don't want to install Flash on your computer, click this button to to see the GIF version of the Middle East map. It does not have the zooming capabilities and detail of the Flash version of the map. Underlying map copyright ©1993 Digital Wisdom®, Inc
---