Earrings on Coins of Darius
The coins on this site are attributed according to Sellwood, 2nd edition (1980). See the genealogy chart for an explanation of the attributions used on this web site.
---
In February 2005, the Parthian studies community was alerted to the presence of an earring on a Sellwood Type 36.13 drachm. A review of the Parthia.com image database revealed several other drachms with this feature.
While the purpose of the earring is not yet understood, it is noted that
this feature appears on coins from a number of mints including Ecbatana, Rhagae, Mithradatkart, Margiane and the Court Mints at Rhagae and Mithradatkart
the obverse dies for coins with and without the ear-ring appear to have been cut by the same engravers at each of those mints
the earring appears to be an intentional addition to the obverse portrait of a few rare coins
Why would the earring be added? We must bear in mind that the Type 35 drachms of the same king show him with facing bust, wearing necklet decorated with a central medallion. But the necklet is replaced with a spiral neck-torque on some rare issues from Rhagae and Mithradatkart. None of the Type 35 drachms in the image database have earrings.
Click on coin images to enlarge:
Sellwood Type 36 Drachms with Earring
There is an interesting anomaly on the Type 36 coins of Darius. A small number of coins illustrated here clearly bear an earring.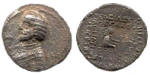 Darius of Media Atropatene (c. 70 B.C.)
AR Drachm, 3.38g, 19mm
Mint/ Ecbatana, undated
Obv/ short-bearded bust left wearing diadem and spiral torque; earring showing; circular border of dots
Rev/ beardless archer wearing bashlyk and cloak seated right on throne, holding bow in right hand; below bow, monogram; seven-line Greek inscription (36iii); no border
Photo/ by permission Amphora Coins (David Hendin)
- Sellwood 36.5 variant (earring)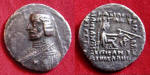 Darius of Media Atropatene (c. 70 B.C.)
AR Drachm
Mint/ Rhagae, undated
Obv/ short-bearded bust left wearing diadem and spiral torque; earring showing; circular border of dots
Rev/ beardless archer wearing bashlyk and cloak seated right on throne, holding bow in right hand; below bow, monogram; seven-line Greek inscription (36iii); no border
Photo/ by permission International Numismatics
- Sellwood 36.9 variant (earring)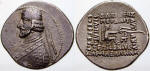 Darius of Media Atropatene (c. 70 B.C.)
AR Drachm, 4.13g
Mint/ Rhagae, undated
Obv/ short-bearded bust left wearing diadem and spiral torque; earring showing; circular border of dots
Rev/ beardless archer wearing bashlyk and cloak seated right on throne, holding bow in right hand; below bow, monogram; seven-line Greek inscription (36iii); no border
Photo/ by permission International Numismatics
- Sellwood 36.9 variant (earring)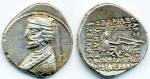 Darius of Media Atropatene (c. 70 B.C.)
AR Drachm, 4.12g, 19mm, die axis 12 o'clock
Mint/ Mithradatkart, undated
Obv/ short-bearded bust left wearing diadem and spiral torque; earring showing; circular border of dots
Rev/ beardless archer wearing bashlyk and cloak seated right on throne, holding bow in right hand; below bow, monogram; seven-line Greek inscription (36iii); no border
Photo/ by permission of an anonymous collector
- Sellwood 36.12 variant (earring)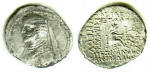 Darius of Media Atropatene (c. 70 B.C.)
AR Drachm
Mint/ Mithradatkart, undated
Obv/ short-bearded bust left wearing diadem and spiral torque; earring showing; circular border of dots
Rev/ beardless archer wearing bashlyk and cloak seated right on throne, holding bow in right hand; below bow, monogram; seven-line Greek inscription (36iii); no border
Photo/ by permission Duane Pichler
- Sellwood 36.13 variant (earring)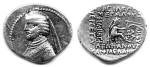 Darius of Media Atropatene (c. 70 B.C.)
AR Drachm, 3.8g
Mint/ Mithradatkart, undated
Obv/ short-bearded bust left wearing diadem and spiral torque; earring showing; circular border of dots
Rev/ beardless archer wearing bashlyk and cloak seated right on throne, holding bow in right hand; below bow, monogram; seven-line Greek inscription (36iii); no border
Photo/ by permission Sadollah Valavi
- Sellwood 36.13 variant (earring)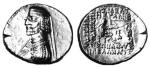 Darius of Media Atropatene (c. 70 B.C.)
AR Drachm, 3.98g
Mint/ Margiane, undated
Obv/ short-bearded bust left wearing diadem and spiral torque; earring showing; circular border of dots
Rev/ beardless archer wearing bashlyk and cloak seated right on throne, holding bow in right hand; below bow, monogram; seven-line Greek inscription (36iii); no border
Photo/ by permission Classical Numismatic Group
- Sellwood 36.16 variant (earring)
- Shore 159 as Phraates III (this coin)

---