Coins of Parthia before Arsaces
Achaemenid and Seleucid Satraps of Parthia
---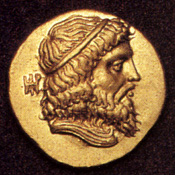 There were two rulers of Parthia named Andragoras mentioned by Justin, one of them Alexander the Great's satrap of Parthia (xii. 4. 12) and the second the governor of Parthia who was crushed by Arsaces I (xli. 4. 7) in the mid-third century. Supporting their existence are a few coins struck in the name of Andragoras, from an uncertain eastern mint sometime between ca. 320 and 240 B.C. It has not been determined to which Andragoras these coins belong.
Mitchiner has argued that Arian's more complete account of Alexander's reign fails to mention a satrap of this name in either Parthia or Media, though he could represent a high military or supervisory official serving alongside the satrap, perhaps confused with the satrap himself by Justin.
There are only four documented gold staters of Andragoras. The first of these pieces entered the British Museum at the same time as the first tetradrachm, both said to be from the Oxus Treasure. A second stater, from the Cunningham collection also appears in the BM. The third stater is in the Berlin cabinet. The fourth stater is in private hands and was sold at auction by Numismatic Fine Arts in November, 1990. A fifth was reported to be circulating for sale in London in March 2004.
For discussion of these coins, see Percy Gardner, "New Coins from Bactria," NC 19 (1879): 1-12 and "Coins from Central Asia," NC 1 (1881): 8-12; Allotte de la Fuye, "Monnaies incertaines de la Sogdiane et des cointrées voisines," RN (1910): 282-292. See also I. M. Diakonov and E. Zejmal, "The Parthian Dynast Andragoras and his Coins" (in Russian), VDI (1988): 4-19; R. B. Whitehead, "The eastern satrap Sophytes," NC 1943, pl. iii, 5. The example in the Berlin cabinet was published by H. Dressel, "Erwerbungen des königlichen Münzkabinetts in den Jahren 1890-1897," ZfN XXI (1898), p. 231; and Mitchiner, Indo-Greek and Indo-Scythian Coinage, Vol. 1: The Early Indo-Greeks and their Antecedents (1975), p. 19 (Type 19).
---
Coins in the Name of Andragoras
Andragoras
AV Stater, 8.61 g., die axis = 6 o'clock
Mint/ unknown eastern mint, undated
Obv/ Bearded and draped bust of Andragoras (or Zeus?) right, wearing taenia, monogram

ΙΜΡ

behind
Rev/ Nike driving fast quadriga right, with bearded Andragoras standing in the chariot, wearing cuirass and satrapal tiara; inscription

[Α]ΝΔΡΑΓΟΡΟΥ


Note/ This nearly mint-condition stater, only the fourth known, appeared in NFA 25 (Nov. 1990). This specimen shows the chariot rider to be a bearded man in satrapal headgear, perhaps Andragoras himself. It remains uncertain, however, whether the man who was the victim of Arsaces struck these coins.
Additional photo/ obverse in color
Photos/ Numismatic Fine Arts
- NFA 25 (Nov. 1990) lot 202 (this coin)
- BMC Arabia, p.193, 1 and 2
- Mitchiner 1975, Vol. 1, type 19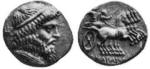 Andragoras
AV Stater, 8.55 g
Mint/ unknown eastern mint, undated
Obv/ bust right of a Zeus-like deity
Rev/ four-horse chariot with rider and driver accompanied by Nike; inscription

ΑΝΔΡΑΓΟΡ[ΟΥ]


Photo/ BMC Arabia (1922)
- BMC Arabia, p.193, 1; pl. 28, 1 (this coin)
- Mörkholm, Early Hellenistic Coinage pl. 25, 378
- Svoronos, Illustrations of the Historia Numorum pl. 28, 12
- Head, Historia Numorum, page 825 fig. 361
- Ghirshman, "Un tetradrachme de d'Andragoras de la collection de M. Foroughi" p. 4, fig 3-4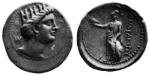 Andragoras
AR Tetradrachm, 16.56 g., 29 mm
Mint/ unknown eastern mint, undated
Obv/ city goddess with mural crown
Rev/ standing Athena with her owl and armor; inscription

ΑΝΔΡΑΓΟΡΟΥ


Photo/ BMC Arabia (1922)
- BMC Arabia, p.193,4 (this coin)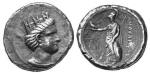 Andragoras
AR Tetradrachm, 15.87 g.
Mint/ unknown eastern mint, undated
Obv/ city goddess with mural crown
Rev/ standing Athena with her owl and armor; inscription

ΑΝΔΡΑΓΟΡΟΥ


Photo/ Gorny & Mosch
- BMC Arabia, p.193,4
- Gorny & Mosch Auktion 130, lot 1341 (this coin)
- Peus 338 (1994), 65 (this coin)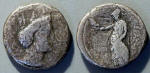 Andragoras
AR Tetradrachm, 15.32 g, 26 mm, die axis = 5 o'clock
Mint/ unknown eastern mint, undated
Obv/ city goddess with mural crown
Rev/ standing Athena with her owl and armor; inscription

[ΑΝ]ΔΡΑΓΟ[ΡΟΥ]


Photo/ Oliver D. Hoover, www.seleukidempire.org
- ANS 1978.201.1 (this coin)
- BMC Arabia, p.193,4
---