Autonomous City Issues (c. 125 B.C. - 40 A.D.)
Coins Attributed as Autonomous City Issues
Click here to view the inscriptions on this king's coins.
---
The attributions and cataloging of Parthian coins used throughout this web site follow David Sellwood's An Introduction to the Coinage of Parthia (1980, 2nd edition) for consistency. The few exceptions to this policy are explained here.
Click on coin images to enlarge:
Seleucia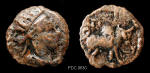 Seleucia Civic Issue
AE Dichalkous, 1.23g, 13mm, die axis = 1h
Mint/ Seleucia, undated
Obv/ bust of Tyche right
Rev/ humped bull standing right; in front

ΔΥ

, above

ΠΤ


Prov/ collection Robert A. DeRose, Jr.
Photo/ by Chris Hopkins
- Sellwood 92.34 variant (dichalkous)

Susa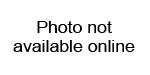 No image of this coin is shown because either there is no photographed example in the database or copyright restrictions prevent its use. If you have a photo of this coin that will help complete the catalog, please contact Chris Hopkins. You will be credited for your contribution if you desire, or may remain anonymous.


Ecbatana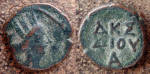 Ecbatana Civic Issue
AE Chalkous, 1.60g, 13mm
Mint/ Ecbatana, October 1, 24 B.C.
Obv/ head of Tyche right; circular border of dots
Rev/ three-line Greek inscription

ΔΚΣ / ΔΙΟΥ / Α

; no border
Note/ probably dated according to the Arsacid era
Photo/ by Chris Hopkins
Location/Bibliothèque nationale de France, JdM 1012
- Sellwood 92.37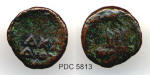 Ecbatana Civic Issue
AE Chalkous
Mint/ Ecbatana, October 1, 24 B.C.
Obv/ head of Tyche right; circular border of dots
Rev/ three-line Greek inscription

ΔΚΣ / ΔΙΟΥ / Α

; no border
Note/ probably dated according to the Arsacid era
Photo/ by permission Rian Thum
- Sellwood 92.37
---