Queen Musa
ΜΟΥΣΗ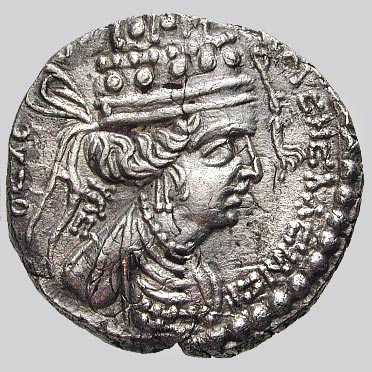 Phraates IV's son, also named Phraates (but never king), was taken hostage by a usurper, Tiridates I, who went over to the Romans. Augustus later used Phraates' son as part of the deal to have the Parthians return in 20 B.C. the Roman legionary standards captured from Crassus at Carrhae in 53 B.C., Saxa in 40 B.C. and Marc Anthony in 36 B.C. Also included in the exchange was a gift to King Phraates of a slave girl named Musa, by whom he had a son, also named Phraates (V), but usually referred to by the diminutive name, Phraataces. In time, Musa was elevated as Phraates' queen. In 10 B.C., she persuaded Phraates to send his other sons to Rome for their safety. Cleared of any rivals to her son, she poisoned her husband in 2 B.C. to have her son Phraataces succeed his father to the throne.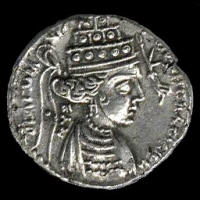 While the reason for the union is not fully clear, Musa then married her son and continued to effect great influence on the court, perhaps the reason that Phraataces was deposed in A.D. 4 and fled to Syria. Nothing more is known of Musa after that time.

Photos: above by Dr. Busso Peus Nachf., below by Najaf Coins & Collectibles Inc.
Click here to view the inscriptions on this king's coins.
---
Coins Featuring Queen Musa
The attributions and cataloging of Parthian coins used throughout this web site follow David Sellwood's An Introduction to the Coinage of Parthia (1980, 2nd edition) for consistency. The few exceptions to this policy are explained here.
Click on coin images to enlarge:
(Sellwood Type 58)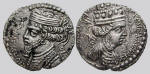 Queen Musa's portrait appears on the reverse side of Sellwood type 58 coins of Phraataces. Click the image to see the coins of Musa on the Phraataces page.
---