Vardanes I (c. A.D. 40 - 47)
ΒΑΡΔΑΝΗΣ or ΟΥΑΡΔΑΝΗΣ
See the genealogy chart.
Drachms of Vardanes I, especially those of eastern mintage, continue the oriental style of his father Artabanus. The silver content remains good at western mints and even in some issues from the eastern part of the empire.
The drachms of Vardanes I have only three pendants from the king's diadem while similar portraits on Vardanes II drachms always have five pendants.
Click here to view the inscriptions on this king's coins.
---
Coins Attributed to Vardanes I
The attributions and cataloging of Parthian coins used throughout this web site follow David Sellwood's An Introduction to the Coinage of Parthia (1980, 2nd edition) for consistency. The few exceptions to this policy are explained here.
Click on coin images to enlarge:
See the description of a Fourrée tetradrachm attributed to Vardanes I.

Vardanes I (c. A.D. 40 - 47)
AR Tetradrachm, 13.87 g
Mint/ Seleucia, February A.D. 43
Obv/ bare-headed bust left with short pointed beard wearing diadem with loop at the top, hair in four waves, ear covered, wart on brow
Rev/ king seated right on throne, receiving palm from Tyche holding cornucopia; Greek legend

ΒΑΣΙΛΕ[ΩΣ] ΒΑΣΙΛΕΩ[Ν] / ΑΡΣΑΚΟΥ ΕΥΕΡΓΕΤΟΥ / ΔΙΚΑΙΟΥ / ΕΠΙΦΑΝΟΥΣ [ΦΙ]ΛΕΛΛΗΝ[ΟΣ]

; year date

ΑΝΤ

above palm (354 S.E. = A.D. 43), and month

ΔΥΣΤΡΟΥ

in exergue
Photo/ by permission Pegasinum
- Sellwood 64.14
- Shore 350

Vardanes I (c. A.D. 40 - 47)
AR Tetradrachm
Mint/ Seleucia, A.D. 44
Obv/ bare-headed bust left with short pointed beard wearing diadem with loop at the top, hair in four waves, ear covered, wart on brow
Rev/ king seated right on throne, receiving palm from Tyche holding cornucopia; Greek legend

[ΒΑΣΙΛΕΩΣ] [Β]ΑΣΙΛΕΩ[Ν] / ΑΡΣΑΚΟΥ ΕΥΕΡΓΕ[ΤΟΥ] / ΔΙΚΑ[ΙΟΥ] / ΕΠΙΦΑΝ[ΟΥΣ] [ΦΙΛΕΛΛΗΝΟΣ]

; year date

ΕΝΤ

above palm (355 S.E. = A.D. 44); month in exergue is off flan
Photo/ by permission
- Sellwood 64.20-27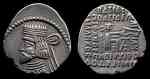 Vardanes I (c. A.D. 40 - 47)
AR Drachm, 3.69 g, 20 mm, die axis = 12h
Mint/ Ecbatana, undated
Obv/ bare-headed bust left with medium pointed beard wearing diadem with loop at the top, earring visible. Hair in three waves. Three lines on forehead (two vertical and one horizontal representing royal wart). Drapery visible on king's shoulder
Rev/ archer seated right on throne holding bow, below bow monogram. Greek legend
Photo/ by permission Thomas K. Mallon, The Coins and History of Asia
- Sellwood 64 type
- Shore 353

Vardanes I (c. A.D. 40 - 47)
AR Drachm, 3.82 g
Mint/ Ecbatana, undated
Obv/ bare-headed bust left with medium pointed beard wearing diadem with loop at the top, earring visible. Hair in three waves. Three lines on forehead (two vertical and one horizontal representing royal wart). Drapery visible on king's shoulder
Rev/ archer seated right on throne holding bow, below bow monogram 26. Greek legend
Photo/ by permission Classical Numismatic Group
- Sellwood 64.31
- Shore 353

Vardanes I (c. A.D. 40 - 47)
AR Drachm
Mint/ Ecbatana, undated
Additional images/ [large obv & rev]
Obv/ bare-headed bust left with medium pointed beard wearing diadem with loop at the top, earring visible. Hair in three waves. Three lines on forehead (two vertical and one horizontal representing royal wart). Drapery visible on king's shoulder
Rev/ archer seated right on throne holding bow, below bow monogram 26. Greek legend
Photo/ by permission Smithsonian Institution, National Numismatic Collection
- Sellwood 64.31
Vardanes I (c. A.D. 40 - 47)
AR Drachm
Mint/ Ecbatana, undated
Obv/ bare-headed bust left with medium pointed beard wearing diadem with loop at the top, earring visible. Hair in three waves. Three lines on forehead (two vertical and one horizontal representing royal wart). Drapery visible on king's shoulder
Rev/ archer seated right on throne holding bow, below bow monogram 26. Greek legend
Prov/ Harlan J. Berk 103 Bid Sale, lot 235, July 1998
Photo/ by permission Mr. P.M., Brussels
- Sellwood 64.31

Vardanes I (c. A.D. 40 - 47)
AR Drachm, 3.83 g
Mint/ Ecbatana, undated
Obv/ bare-headed bust left with medium pointed beard wearing diadem with loop at the top and three ends; earring visible; no royal wart
Rev/ archer seated right on throne holding bow, below bow monogram 26. Blundered Greek legend
Photo/ by permission Classical Numismatic Group
- Sellwood 64.31
- Shore 353

Vardanes I (c. A.D. 40 - 47)
AR Drachm, 3.67 g
Mint/ Ecbatana, undated
Obv/ bare-headed bust left with medium pointed beard wearing diadem with loop at the top and three ends, earring visible. Hair in three waves. Three lines on forehead (two vertical and one horizontal representing royal wart). Drapery visible on king's shoulder
Rev/ archer seated right on throne holding bow, below bow monogram 26. Greek legend
Photo/ by permission Harlan J. Berk, Ltd.
- Sellwood 64.31
---